Global macro overview for 13/10/2017:
Jean Claude Juncker, the President of European Commission, says the Brexit process will take longer than the UK expected. After another week of negotiations, the orginal Brexit deadline of April 2019 is still out of reach as both parties are still unable to find "a real compromise as far as the remaining financial commitments of the UK are concerned" – Juncker said in a speech at the University of Luxembourg. Moreover, he added: "The British are discovering, as we are, day after day new problems. That's the reason why this process will take longer than initially thought."
The UK chief of negotiations Michael Barnier, which finally proposed the possibility of applying a two-year transitional period, was not happy about the state of the negotiations deadlock as well. He said he would not recommend that Brexit talks move on to the second phase as the current state of affairs is not in the UK favour.
In conclusion, no great step forward after another week of EU-UK negotiations, suppose more progress could be made in time for the next European Council meeting before Christmas.
Let's now take a look at GBP/USD technical picture in the H4 time frame. At the beginning, the price dropped towards the dashed trend line support to test the level of 1.3111 and then bounced back after the Barnier comments. Currently, the market has broken out above the technical resistance zone between the levels of 1.3269 – 1.3293 and it is heading towards the level of 1.3342 in overbought market conditions.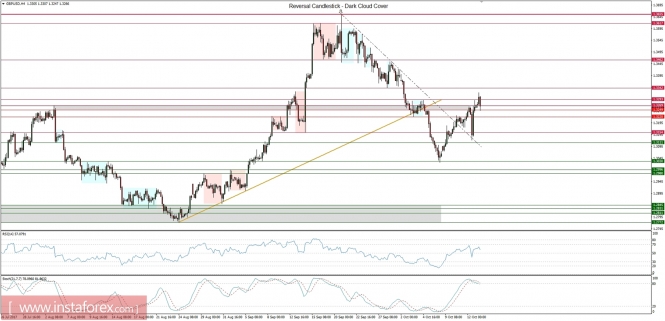 The material has been provided by InstaForex Company – www.instaforex.com
The post Global macro overview for 13/10/2017 appeared first on forex analytics forexpic.com.